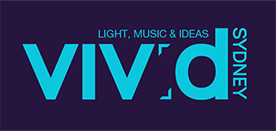 VIVID SYDNEY
Responsive multi-function website
Task
As NSW's premier Winter tourism event, Vivid Sydney is growing every year, and 2014 was no different! Engaged with our partner Iris Sydney, the task was quite an enormous one; build an extremely intricate responsive website with a very tight deadline.
Outcome
In 5 weeks, we built a website that was cutting edge on all fronts; aesthetically, technically and conceptually. Our team worked around the clock to maintain the integrity of the site's design with the vibrancy of the Vivid Sydney festival. A brilliant piece of design by Iris, with some very complex responsive elements, made for a challenging development project but one which we are proud of.
The site was built off a Drupal CMS to meet the requirements of the existing system. Additional elements include: user profile creation and management, user program planning and trip mapping, RSS event feeds, video, audio, ticket management, animation and much more!
Technology
HTML5, PHP, JavaScript, AJAX, Drupal, MySQL, RSS feed.